Emergency Pediatric Dentistry
---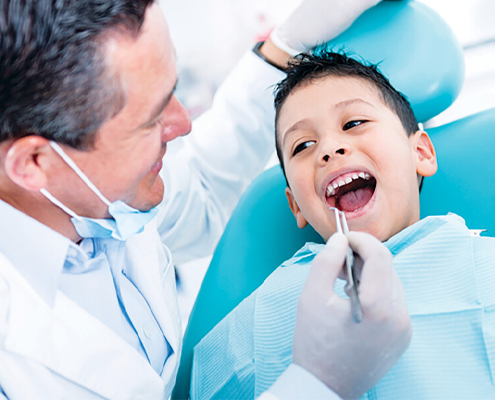 Emergencies can happen at any time, and preparing for them is essential. Regarding dental emergencies in children, it's vital to act quickly and seek professional help from a pediatric dentist. Pediatric dentists are trained to handle emergencies unique to children, and they understand the importance of providing prompt and compassionate care. This page will discuss the importance of emergency pediatric dentistry and what to expect during an emergency dental visit.
The proficient team at Pediatric Dentistry of Savannah, GA, is proud to serve the local community with premium dental services, being there for you when you need us most.
What is Emergency Pediatric Dentistry?
Emergency pediatric dentistry refers to the specialized care and treatment provided by pediatric dentists for dental emergencies in children. Dental emergencies can range from a knocked-out tooth to a severe toothache or a broken jaw. Pediatric dentists have the knowledge, skills, and tools necessary to provide emergency dental care for children of all ages.
Common Dental Emergencies in Children:
Dental emergencies in children can occur due to accidents, injuries, or underlying dental conditions. Some of the most common dental emergencies that may require emergency pediatric dentistry include:
Toothaches: Toothaches are a typical dental emergency in children and can be caused by cavities, infections, or trauma.
Broken or Chipped Teeth: A fractured or chipped tooth can cause pain and discomfort and may require immediate attention to prevent further damage.
Knocked-Out Teeth: A knocked-out tooth is a severe dental emergency that requires immediate attention.
Object Stuck Between Teeth: Objects stuck between teeth can cause pain and discomfort and may require professional help to remove them safely.
Soft Tissue Injuries: Soft tissue injuries, such as cuts or lacerations in the mouth, can be painful and may require professional care to prevent infection.
What to Do in a Dental Emergency:
In a dental emergency, staying calm and acting quickly is important. Here are some steps you can take to help your child in a dental emergency:
Stay Calm: It's essential to remain calm and reassure your child that everything will be okay.
Control Bleeding: If bleeding, apply gentle pressure to the area with a clean cloth or gauze.
Save the Tooth: If a tooth is knocked out, pick it up by the crown (the part usually visible in the mouth) and keep it moist by placing it in a container of milk or saliva.
Contact a Pediatric Dentist: Contact a pediatric dentist as soon as possible to schedule an emergency dental visit.
What to Expect During an Emergency Pediatric Dental Visit:
During an emergency pediatric dental visit, the dentist will assess the situation and provide the necessary care and treatment. The dentist may take X-rays, relieve pain, and perform necessary procedures, such as filling a cavity or repairing a broken tooth. The dentist will also provide instructions for at-home care and schedule a follow-up appointment to ensure proper healing.
Your Trusted Dental Emergency Expert
Dental emergencies in children can be stressful and scary, but with the help of a pediatric dentist, you can ensure that your child receives the necessary care and treatment. If your child experiences a dental emergency, it's necessary to seek professional help as soon as possible. Remember to stay calm, control bleeding, and contact a pediatric dentist for immediate care. During your next appointment with the trained team at Pediatric Dentistry of Savannah, GA, you can be sure you receive the proper care and guidance you and your loved ones deserve. With prompt and compassionate care, your child can be on the road to recovery in no time.