Pediatric Dentistry
---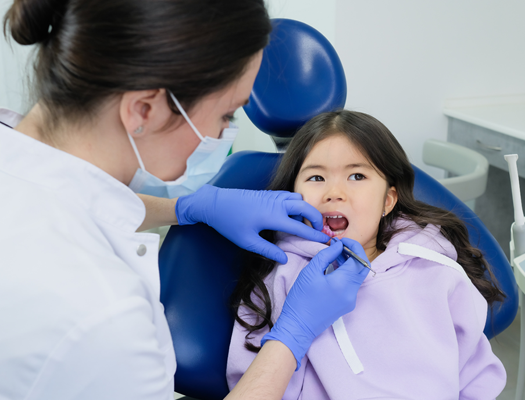 Pediatric dentistry is perfect for parents who want their children to have a positive dental experience. In this post, we'll explain what pediatric dentistry is, what services are typically offered, and why starting your child's dental care is essential.
The professional team at Pediatric Dentistry of Savannah, GA, is proud to serve the local community with premium dental services, ensuring that tomorrow's smiles are adequately taken care of so that they can grow into happy and healthy adults.
What is Pediatric Dentistry?
Pediatric dentistry is a specialized branch of dentistry that focuses on the oral health of infants, children, and adolescents. Pediatric dentistry aims to help children develop healthy oral habits and prevent and treat dental problems that may arise. A pediatric dentist has additional training beyond that of a general dentist, specifically in the care of young patients.
What Services are Offered?
A pediatric dental office will offer various services, from routine checkups and cleanings to more specialized procedures. Here are some standard services you can expect from a pediatric dentist:
Dental exams and cleanings: Regular dental exams and cleanings are essential for maintaining your child's oral health. These appointments allow the dentist to check for potential issues and prevent them from developing into more significant ones.
Fluoride treatments: Fluoride treatments help to strengthen teeth and prevent tooth decay.
Dental sealants: Dental sealants are a protective coating applied to the teeth' surface to prevent cavities from forming.
Fillings and crowns: If your child has a cavity or tooth decay, a filling or crown may be necessary to restore the tooth's function and prevent further damage.
Extractions: Extraction may be necessary if a tooth is severely damaged or cannot be saved.
Orthodontic evaluations: Pediatric dentists can evaluate your child's teeth and jaw to determine if orthodontic treatment is necessary.
Mouthguards: If your child participates in sports, a mouthguard can protect their teeth from injury. Pediatric dentists can create custom-fitted mouthguards to ensure maximum protection.
Sedation dentistry: Pediatric dentists may offer sedation dentistry for children who are anxious or nervous about dental procedures. This can help ensure your child is comfortable and relaxed during their appointment.
Why Start Early?
It's recommended that children have their first dental visit by their first birthday or when their first tooth appears. Starting dental care early can help prevent dental problems and set the foundation for a lifetime of good oral health. A pediatric dentist can monitor your child's dental development and advise on caring for their teeth at home. Regular dental visits also help children become more comfortable with the dentist and can prevent dental anxiety in the future.
Choosing a Pediatric Dentist
When choosing a pediatric dentist, there are a few things to consider. Look for a welcoming and child-friendly dental office, with staff experienced in working with children. Check for reviews from other parents and ask for recommendations from friends and family. Finding a dentist who can build a positive relationship with your child and make dental visits a stress-free experience is essential.
Your Partner in Oral Care
Pediatric dentistry is an essential part of your child's overall health care. By starting dental care early and choosing a pediatric dentist, you can help prevent dental problems and establish healthy oral habits that will last a lifetime. During your next appointment with the experienced team at Pediatric Dentistry of Savannah, GA, you can be sure you receive the proper care and guidance you and your loved ones deserve.